Kohlrabi Juice
Traditionally Used For
Lung Problems
Skin Problems
A Good Source Of
Freshness Test
Kohlrabies should be firm and crunchy.
Important
Kohlrabi is strong tasting.
Due to the fact that Kohlrabi is a green juice, you will find it beneficial to have no more than about ¼ of your juice consisting of green juice.
General
Kohlrabi is one of those vegetables I hate to eat but I know I should like. People always describe Kohlrabi as cross between the taste of turnips, radishes and cabbage. I personally don't like the taste, but that's why we add carrot or apple juice to help make it taste better!
One thing is for sure, Kohlrabi is a very nutritionally sound vegetable that most of us don't eat enough of. You can grow Kohlrabi yourself and since it grows above ground, it's easy to pick.
Kohlrabi is a weird looking vegetable if you ask me, but there is nothing weird about its benefits to a healthy a lifestyle.
Chinese Herbal Information
Properties:
Energy: neutral
5 Elements: fire,earth,metal
5 Flavors: bitter,sweet,spicy
General Information:
Nothing to report.
Cautions & Suggestions:
Nothing to report.
Benefits:
Alcoholism
Detoxification
Picture of Kohlrabi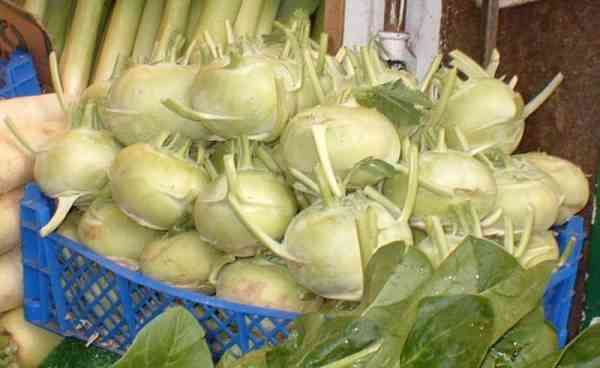 Kohlrabi — Nutritional Analysis
Nutrient
Units
Value / 100 g
Carbohydrate, by difference
g
6.20
Fiber, total dietary
g
3.6
Vitamin C, total ascorbic acid
mg
62.0
Pantothenic acid
mg
0.165
Hatha Yoga
Have you been wanting to do hatha yoga (stretching) but have found it either too difficult or you are not that flexible? If yes, and even if no, watch Jesse do some pure hatha yoga routines.
Unlike flow yoga, each pose in pure or traditional hatha yoga is held for a few minutes. While holding the pose, you focus the mind on the stretch. When you focus the mind, that's when you find silence.
Jesse is not flexible — never has been and probably never will be flexible like others. But it doesn't matter. In pure hatha yoga, how flexible you are makes no difference. It's all about loving the pose and focussing the mind on the stretch.
If you want to learn pure hatha yoga, now you can by following Jesse on a series of hatha yoga routines.
Random Questions That Have Been Asked: