Mustard Greens Juice
Traditionally Used For
Menopause
Muscle Relaxant
A Good Source Of
Magnesium
Vitamin A
Vitamin C
Freshness Test
Look for leaves that are free of yellow or brown spots. They should be crisp with a good green color to them.
Important
Due to the fact that Mustard Greens are a green juice, you will find it beneficial to have no more than about ¼ of your juice consisting of green juice.
General
Greens are very nutritious foods. Greens are generally speaking harder to digest when you eat them raw due to cellulose walls. When you juice the greens, you extract the nutrients thus bypassing the cellulose walls.
Chinese Herbal Information
Properties:
Energy: warm
5 Elements: metal
5 Flavors: spicy
General Information:
Nothing to report.
Cautions & Suggestions:
Chinese herbalists warn that prolonged consumption of mustard greens can heat the internal region too much. Therefore, mustard greens are not suggested for those who suffer from eye diseases, hemorrhoids, constipation and/or stools containing blood. All of these symptoms can indicate that your body is already too hot (too much yang energy) and when you consume mustard greens, you will be adding even more heat (yang) energy to the body.
On the flip side, due to the yang (hot) energy that mustard greens provide along with its pungent taste, symptoms such congestion can be relieved because the yang energy and pungent taste help to promote circulation and to relieve congestion.
Benefits:
Circulation
Chest Congestion
Picture of Mustard Greens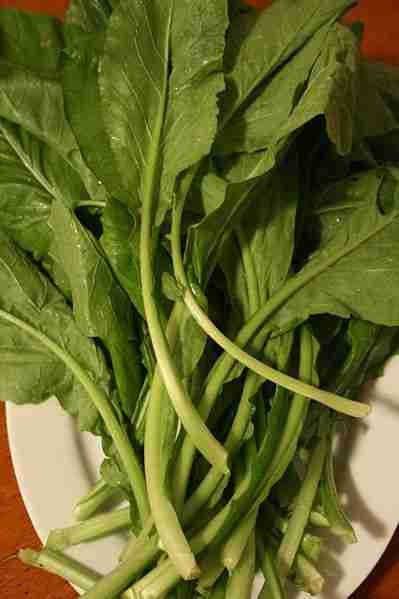 Photo by The Bitten Word.
Mustard Greens — Nutritional Analysis
Nutrient
Units
Value / 100 g
Carbohydrate, by difference
g
4.90
Fiber, total dietary
g
3.3
Vitamin C, total ascorbic acid
mg
70.0
Pantothenic acid
mg
0.210
Vitamin A, RAE
mcg_RAE
265
Hatha Yoga
Have you been wanting to do hatha yoga (stretching) but have found it either too difficult or you are not that flexible? If yes, and even if no, watch Jesse do some pure hatha yoga routines.
Unlike flow yoga, each pose in pure or traditional hatha yoga is held for a few minutes. While holding the pose, you focus the mind on the stretch. When you focus the mind, that's when you find silence.
Jesse is not flexible — never has been and probably never will be flexible like others. But it doesn't matter. In pure hatha yoga, how flexible you are makes no difference. It's all about loving the pose and focussing the mind on the stretch.
If you want to learn pure hatha yoga, now you can by following Jesse on a series of hatha yoga routines.
Random Questions That Have Been Asked: