Purslane Juice
Traditionally Used For
Bladder Problems
Circulation
Skin Problems
Weight Loss
A Good Source Of
Freshness Test
Another common weed that can be juiced. Look for purslane away from roads or areas that have been sprayed with chemicals. Ideally, you want to pick purslane in the morning. In order to save water, purslane leaves will send their liquids to their roots once the sun gets too hot. Purslane grows during the warmer months.
Important
Purslane can be a powerful cleanser of the body. It can really make the body detoxify. Therefore, you do not want large amounts. If you plan on drinking purslane, then you may also want to consult a Naturopath or herbalist before doing so.
Purslane is bitter and so you don't want to use very much at all. Combine with other vegetables.
Purslane is high in oxalic acid and should be avoided by those who suffer from or are at risk for kidney stones, gout, rheumatoid arthritis, osteoporosis and those whose stomach is easily irritated. Read my notes on oxalic acid for more information.
General
I personally have never drunk purslane juice. I have added this information though because there are those who like to use traditional herbal remedies in addition to the every day and common vegetables.
But since purslane is a powerful detoxifier of the body, you will want to consult a Naturopath or herbalist before drinking purslane.
Besides its natural herbal healing properties, purslane is also extremely nutritious and chock full of vitamins and minerals.
Chinese Herbal Information
Properties:
Energy: n/a
5 Elements: n/a
5 Flavors: n/a
General Information:
Nothing to report.
Cautions & Suggestions:
Nothing to report.
Benefits:
Nothing to report.
Picture of Purslane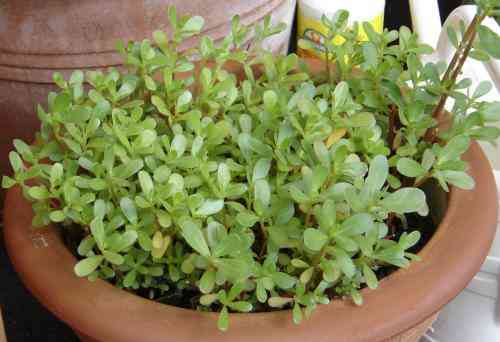 Purslane — Nutritional Analysis
Nutrient
Units
Value / 100 g
Carbohydrate, by difference
g
3.43
Vitamin C, total ascorbic acid
mg
21.0
Pantothenic acid
mg
0.036
Vitamin A, RAE
mcg_RAE
66
Hatha Yoga
Have you been wanting to do hatha yoga (stretching) but have found it either too difficult or you are not that flexible? If yes, and even if no, watch Jesse do some pure hatha yoga routines.
Unlike flow yoga, each pose in pure or traditional hatha yoga is held for a few minutes. While holding the pose, you focus the mind on the stretch. When you focus the mind, that's when you find silence.
Jesse is not flexible — never has been and probably never will be flexible like others. But it doesn't matter. In pure hatha yoga, how flexible you are makes no difference. It's all about loving the pose and focussing the mind on the stretch.
If you want to learn pure hatha yoga, now you can by following Jesse on a series of hatha yoga routines.
Random Questions That Have Been Asked: