Yam Juice
Traditionally Used For
Complexion
Eliminative System
A Good Source Of
Calcium
Potassium
Vitamin A
Freshness Test
Yams should be firm. Avoid those with bruises, discolored areas, sunken areas or shriveled areas. Avoid Yams with any type of decay as the decay can produce an unfavorable taste.
Important
General
There is always confusion between Sweet Potatoes and Yams. Which one is which?
Technically, both are Sweet Potatoes, but those with the orange flesh inside are typically referred to as Yams and those with whitish color inside are Sweet Potatoes.
I prefer Yams due to the fact that they are exceptionally high in Beta Carotene (Vitamin A). I like Yams because the darker color signifies more nutrients.
Chinese Herbal Information
Properties:
Energy: neutral
5 Elements: earth
5 Flavors: sweet
General Information:
Nothing to report.
Cautions & Suggestions:
Nothing to report.
Benefits:
Diabetes
Frequent Urination
Picture of Yams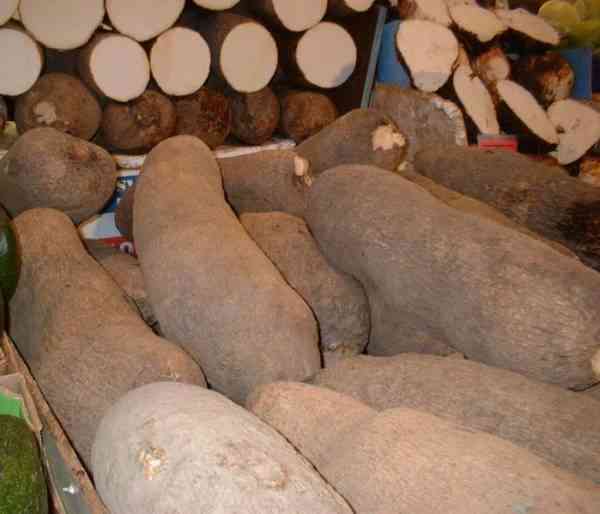 Yams — Nutritional Analysis
Nutrient
Units
Value / 100 g
Carbohydrate, by difference
g
20.12
Fiber, total dietary
g
3.0
Glucose (dextrose)
g
0.96
Vitamin C, total ascorbic acid
mg
2.4
Pantothenic acid
mg
0.800
Vitamin B-12, added
mcg
0.00
Vitamin A, RAE
mcg_RAE
709
Cryptoxanthin, beta
mcg
0
Lutein + zeaxanthin
mcg
0
Vitamin E (alpha-tocopherol)
mg
0.26
Tocopherol, gamma
mg
0.00
Tocopherol, delta
mg
0.00
Vitamin D (D2 + D3)
mcg
0.0
Vitamin K (phylloquinone)
mcg
1.8
Dihydrophylloquinone
mcg
0.0
Fatty acids, total saturated
g
0.018
Fatty acids, total monounsaturated
g
0.001
16:1 undifferentiated
g
0.000
18:1 undifferentiated
g
0.001
22:1 undifferentiated
g
0.000
Fatty acids, total polyunsaturated
g
0.014
18:2 undifferentiated
g
0.013
18:3 undifferentiated
g
0.001
20:3 undifferentiated
g
0.000
20:4 undifferentiated
g
0.000
Hatha Yoga
Have you been wanting to do hatha yoga (stretching) but have found it either too difficult or you are not that flexible? If yes, and even if no, watch Jesse do some pure hatha yoga routines.
Unlike flow yoga, each pose in pure or traditional hatha yoga is held for a few minutes. While holding the pose, you focus the mind on the stretch. When you focus the mind, that's when you find silence.
Jesse is not flexible — never has been and probably never will be flexible like others. But it doesn't matter. In pure hatha yoga, how flexible you are makes no difference. It's all about loving the pose and focussing the mind on the stretch.
If you want to learn pure hatha yoga, now you can by following Jesse on a series of hatha yoga routines.
Random Questions That Have Been Asked: