Pineapple Juice
Traditionally Used For
Blood Disorders
Digestive Problems
A Good Source Of
Calcium
Chlorine
Phosphorus
Vitamin A
Vitamin C
Bromelain
Freshness Test
Look for a golden colored skin that have a sweet aroma to them.
Important
General
If the pineapple is organically grown, then you can juice the rind too.
The rind of the pineapple is the primary source for the bromelain, a natural digestive enzyme that is also known to be a natural anti–inflammatory.
This is one of my favorite fruits to juice. You will be surprised at how delicious this juice is even after juicing the rind.
Chinese Herbal Information
Properties:
Energy: neutral
5 Elements: wood,earth
5 Flavors: sour,sweet
General Information:
Nothing to report.
Cautions & Suggestions:
Chinese herbalists suggest adding a little salt to pineapples to help reduce and/or eliminate a slight itch that the pineapple may cause at the tip of the tongue.
Benefits:
Abdominal Swelling
Diarrhea
Edema
Encourages Urination
Herbal and Homeopathic Remedies That You Might Like
I have personally been using herbal and homeopathic remedies with great success since 1992. So like me, you might find that in addition to juicing, the following herbal and/or homeopathic remedies may be beneficial in helping you achieve greater and better health.
→ Don't see the right remedy for you? View a wide selection of more herbal and homeopathic remedies for various health concerns.
Picture of Pineapples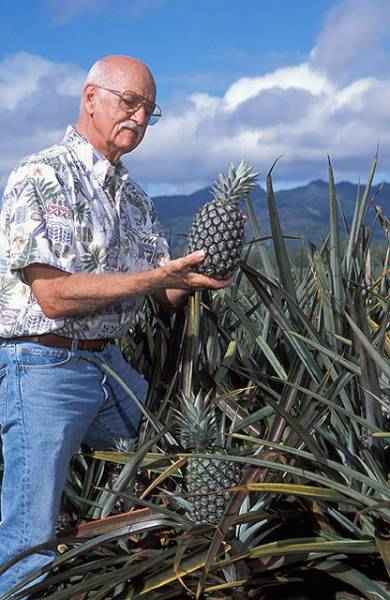 About 1 month before harvest, plant physiologist Paul Moore inspects green pineapple fruit.
Photo by Peggy Greb.
Pineapple — Nutritional Analysis
Nutrient
Units
Value / 100 g
Carbohydrate, by difference
g
12.39
Fiber, total dietary
g
1.2
Vitamin C, total ascorbic acid
mg
15.4
Pantothenic acid
mg
0.160
Tocopherol, alpha
mg
0.10
Hatha Yoga
Have you been wanting to do hatha yoga (stretching) but have found it either too difficult or you are not that flexible? If yes, and even if no, watch Jesse do some pure hatha yoga routines.
Unlike flow yoga, each pose in pure or traditional hatha yoga is held for a few minutes. While holding the pose, you focus the mind on the stretch. When you focus the mind, that's when you find silence.
Jesse is not flexible — never has been and probably never will be flexible like others. But it doesn't matter. In pure hatha yoga, how flexible you are makes no difference. It's all about loving the pose and focussing the mind on the stretch.
If you want to learn pure hatha yoga, now you can by following Jesse on a series of hatha yoga routines.
Random Questions That Have Been Asked: