Chive Juice
Traditionally Used For
Anti–Cancer
Anti–Inflammatory
Hypertension
Rheumatoid Arthritis
A Good Source Of
Beta–Carotene
Folic Acid
Vitamin C
Freshness Test
Chives can be easily grown in most gardens or container pots. You can also buy chives in grocery stores. It's not hard to determine if the chives are fresh or not. If the chives are wilted, it's not fresh. Of course if you are getting the chives from your garden, then it will always be fresh.
Chives are a spring plant and are best in May and June. Chives will produce a really nice pinkish type of flower but it is best to pick the leaves before they flower. Chives are naturally cylindrical and hollow inside.
If you are growing your own chives and the leaves flower before you pick them, you can always cut back the leaves to about 5 cm and the leaves will re–grow.
Important
Chives has a powerful taste and so I would suggest juicing only a very small amount. Remember, chives are actually part of the garlic family.
General
I remember reading, many years ago now, in a herbal remedy book how chives contain trace amounts of arsenic. While excess amounts of arsenic is toxic the trace amounts, which the body needs for good health, was said to help improve digestion.
Chives are easy to grow indoors or outside. They can survive in almost any type of condition. Even a person who is horrible at gardening can grow chives.
As a side note, it is said that growing chives next to a rose bush helps to naturally deter aphids that would naturally be attracted to the rose bush. The reason is that chives are said to produce an odor that aphids do not like.
Chinese Herbal Information
Properties:
Energy: warm
5 Elements: metal
5 Flavors: spicy
General Information:
Nothing to report.
Cautions & Suggestions:
Nothing to report.
Benefits:
Picture of Chives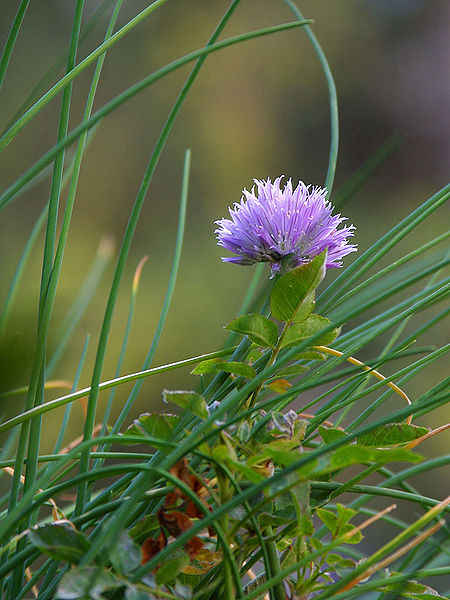 Chives — Nutritional Analysis
Nutrient
Units
Value / 100 g
Carbohydrate, by difference
g
4.35
Fiber, total dietary
g
2.5
Vitamin C, total ascorbic acid
mg
58.1
Pantothenic acid
mg
0.324
Vitamin B-12, added
mcg
0.00
Vitamin A, RAE
mcg_RAE
218
Cryptoxanthin, beta
mcg
0
Lutein + zeaxanthin
mcg
323
Vitamin E (alpha-tocopherol)
mg
0.21
Vitamin K (phylloquinone)
mcg
212.7
Fatty acids, total saturated
g
0.146
Fatty acids, total monounsaturated
g
0.095
16:1 undifferentiated
g
0.000
18:1 undifferentiated
g
0.095
22:1 undifferentiated
g
0.000
Fatty acids, total polyunsaturated
g
0.267
18:2 undifferentiated
g
0.252
18:3 undifferentiated
g
0.015
20:4 undifferentiated
g
0.000
Hatha Yoga
Have you been wanting to do hatha yoga (stretching) but have found it either too difficult or you are not that flexible? If yes, and even if no, watch Jesse do some pure hatha yoga routines.
Unlike flow yoga, each pose in pure or traditional hatha yoga is held for a few minutes. While holding the pose, you focus the mind on the stretch. When you focus the mind, that's when you find silence.
Jesse is not flexible — never has been and probably never will be flexible like others. But it doesn't matter. In pure hatha yoga, how flexible you are makes no difference. It's all about loving the pose and focussing the mind on the stretch.
If you want to learn pure hatha yoga, now you can by following Jesse on a series of hatha yoga routines.
Random Questions That Have Been Asked: