Papaya Juice
Traditionally Used For
Blood Problems
Constipation
Heart Disease
Improved Digestion
A Good Source Of
Phosphorus
Potassium
Silicon
Sodium
Vitamin A
Vitamin C
Freshness Test
Look for deep colored papayas that are orange, gold or yellow. You don't wantmushy papayas and so look for slightly firm papayas. It's okay if the papaya isspotted as this is natural and is a sign of potentially more flavorful juice.
Important
Peel before juicing if you have a week juicer. If you have a powerful juicerthen you can also juice the peel.
I personally don't juice the seeds. The seeds can affect the tastenegatively. It's a personal choice though if you want to juice the seeds or not.
Wash your hands after handling either the papaya skin or seeds. Both theseeds and skin can cause some people to have itchy skin. Avoid touching youreyes until after you have washed your hands.
General
I like papaya as it is high in papain, a natural digestive enzyme.
Depending on the quality of your juicer, a papaya may not juice well as itcan be more mushy. Some papayas are better in smoothies. But if you have a goodjuicer and a good papaya, then you can make really delicious juice.
Picture of Papayas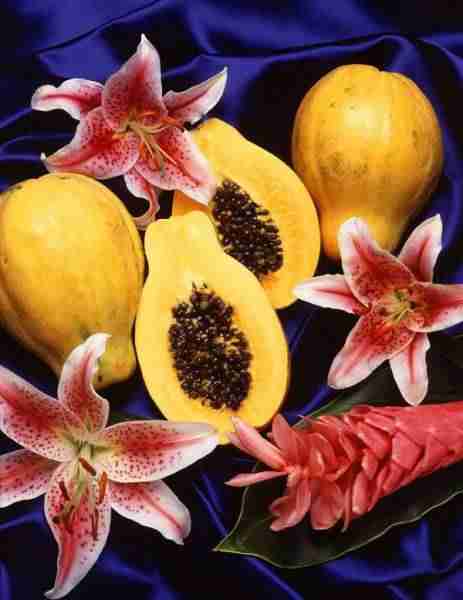 Hawaiian papayas, Carica papaya.
Photo by Scott Bauer.
Papaya — Nutritional Analysis
Nutrient
Units
Value / 100 g
Carbohydrate, by difference
g
9.81
Fiber, total dietary
g
1.8
Vitamin C, total ascorbic acid
mg
61.8
Pantothenic acid
mg
0.218
Vitamin A, RAE
mcg_RAE
14
Hatha Yoga
Have you been wanting to do hatha yoga (stretching) but have found it either too difficult or you are not that flexible? If yes, and even if no, watch Jesse do some pure hatha yoga routines.
Unlike flow yoga, each pose in pure or traditional hatha yoga is held for a few minutes. While holding the pose, you focus the mind on the stretch. When you focus the mind, that's when you find silence.
Jesse is not flexible — never has been and probably never will be flexible like others. But it doesn't matter. In pure hatha yoga, how flexible you are makes no difference. It's all about loving the pose and focussing the mind on the stretch.
If you want to learn pure hatha yoga, now you can by following Jesse on a series of hatha yoga routines.
Random Questions That Have Been Asked: