Bamboo Shoots Juice
Traditionally Used For
A Good Source Of
Phosphorus
Potassium
Protein
Riboflavin
Thiamin
Vitamin C
Vitamin B6
Vitamin E
Zinc
Freshness Test
If you are buying fresh bamboo shoots, then they should be a creamy yellow color. Only the central core of the stem is used if buying it whole. Bamboo shoots are usually only available seasonal when fresh, but can also be bought in cans now. Fresh bamboo shoots are usually available at Asian stores. Canned bamboo shoots are available in many stores in the Asian section.
If you buy fresh bamboo shoots, then you must first boil them for 5 minutes to remove the bitter taste. Once cooked, then slice as needed.
After you cook the bamboo shoots, then can remain fresh in the fridge for up to 2 weeks. Place the bamboo shoots in a water filled container. Change the water every 2 days.
Important
General
Chances are, if you want to juice bamboo shoots that you will need to buy them canned. Bamboo shoots are delicious in stir frys also. Since bamboo shoots are high in fiber, they can help lower cholesterol levels in blood when eaten.
Since bamboo shoots are usually soaked in water, the juice you make from juicing bamboo shoots may be more water than actual juice. Nonetheless, you don't need a lot of bamboo shoots to get the health benefits.
Believe it or not, but bamboo is part of the grass family.
Chinese Herbal Information
Properties:
Energy: cold
5 Elements: earth
5 Flavors: sweet
General Information:
Bamboo shoots nourish the blood and qi energy. Although you can juice bamboo shoots, if you eat bamboo shoots then you will also be getting a lot of fiber. The Chinese traditionally eat bamboo shoots with meat to help cool the heat of the meat. In some other dishes, mushrooms are eaten with meat because the mushrooms also help cool the heat of the meat. However, bamboo shoots were so popular for helping to cool the heat of meat that a poet actually wrote a poem about bamboo shoots and meats.
Since bamboo shoots are high in fiber, they do help with constipation when eaten. However, since bamboo shoots also have a strong cooling effect, the bamboo shoots will also help bring moisture to the bowels which is also beneficial for those who are constipated.
Bamboo shoots are often used in traditional Chinese herbal medicine for skin problems that reside below the skin but won't erupt. Having bamboo shoots is said to help force the eruption so the person can get the skin problem over and done with. Thus bamboo shoots are often used for measles.
Bamboo leaves can also be eaten and also have a strong cooling energy.
Cautions & Suggestions:
A strong cooling effect. Too much will lead to loose bowel movements.
Benefits:
Herbal and Homeopathic Remedies That You Might Like
I have personally been using herbal and homeopathic remedies with great success since 1992. So like me, you might find that in addition to juicing, the following herbal and/or homeopathic remedies may be beneficial in helping you achieve greater and better health.
→ Don't see the right remedy for you? View a wide selection of more herbal and homeopathic remedies for various health concerns.
Picture of Bamboo Shoots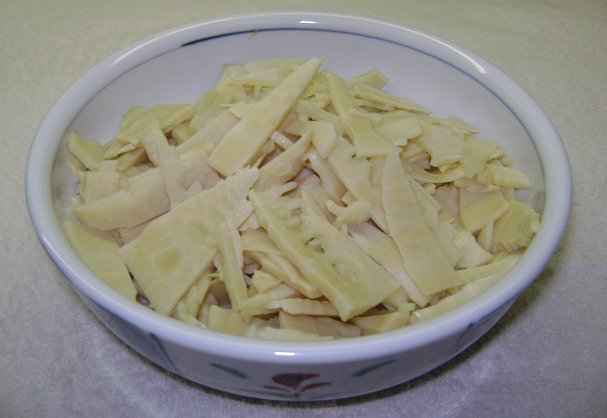 Bamboo Shoots (Cooked & Boiled with Salt) — Nutritional Analysis
Nutrient
Units
Value / 100 g
Carbohydrate, by difference
g
1.52
Fiber, total dietary
g
1.0
Vitamin C, total ascorbic acid
mg
0.0
Pantothenic acid
mg
0.066
Fatty acids, total saturated
g
0.051
Fatty acids, total monounsaturated
g
0.005
18:1 undifferentiated
g
0.005
Fatty acids, total polyunsaturated
g
0.098
18:2 undifferentiated
g
0.083
18:3 undifferentiated
g
0.015
Hatha Yoga
Have you been wanting to do hatha yoga (stretching) but have found it either too difficult or you are not that flexible? If yes, and even if no, watch Jesse do some pure hatha yoga routines.
Unlike flow yoga, each pose in pure or traditional hatha yoga is held for a few minutes. While holding the pose, you focus the mind on the stretch. When you focus the mind, that's when you find silence.
Jesse is not flexible — never has been and probably never will be flexible like others. But it doesn't matter. In pure hatha yoga, how flexible you are makes no difference. It's all about loving the pose and focussing the mind on the stretch.
If you want to learn pure hatha yoga, now you can by following Jesse on a series of hatha yoga routines.
Random Questions That Have Been Asked: