Broccoli Juice
Traditionally Used For
Cancer Prevention
Cataract Prevention
A Good Source Of
Freshness Test
The florets should be a purple color. Avoid florets that are yellow in color. Broccoli spoils fast, so only buy the amount you need.
Important
Due to the fact that Broccoli is a green juice, you will find it beneficial to have no more than about ¼ of your juice consisting of green juice.
General
Broccoli contains a lot of calcium and is a member of the cabbage family. One of the best vegetables to juice from a nutritional and health point of view.
Broccoli florets can contain germs and bug. One method to eliminate these germs and bugs is to blanch the broccoli in some boiling salted water before juicing. Plunging vegetables into boiling salted can help clean the vegetables of germs and bugs that cannot be removed by normal washing.
In traditional Chinese cooking, vegetables such as broccoli and cauliflower are often blanched for this very reason.
Not all vegetables need to be blanched but those with tight florets are good candidates for blanching before juicing.
Of course, not everyone will want to do this because they will fear that the nutrition will disappear and certainly, some nutrition will leave. But not a significant amount to be concerned about.
Ultimately, whether you blanch or not is a personal choice but it is definitely a method to help kill germs and bug before juicing.
Chinese Herbal Information
Properties:
Energy: neutral
5 Elements: earth
5 Flavors: sweet
General Information:
Nothing to report.
Cautions & Suggestions:
Nothing to report.
Benefits:
Nothing to report.
Herbal and Homeopathic Remedies That You Might Like
I have personally been using herbal and homeopathic remedies with great success since 1992. So like me, you might find that in addition to juicing, the following herbal and/or homeopathic remedies may be beneficial in helping you achieve greater and better health.
→ Don't see the right remedy for you? View a wide selection of more herbal and homeopathic remedies for various health concerns.
Picture of Broccoli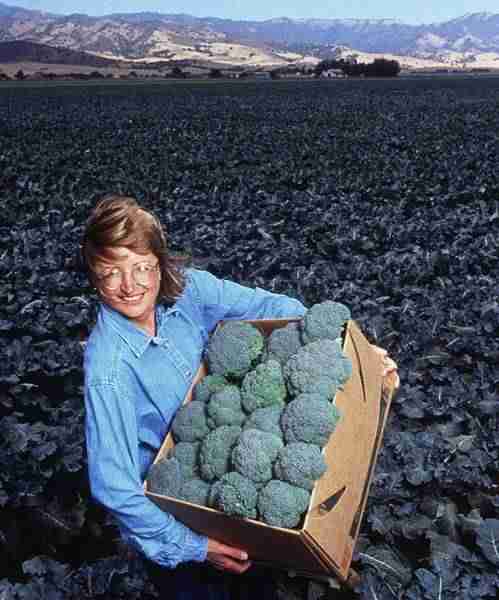 Photo by Scott Bauer.
Broccoli — Nutritional Analysis
Nutrient
Units
Value / 100 g
Carbohydrate, by difference
g
5.24
Fiber, total dietary
g
3.0
Vitamin C, total ascorbic acid
mg
93.2
Pantothenic acid
mg
0.535
Vitamin A, RAE
mcg_RAE
77
Hatha Yoga
Have you been wanting to do hatha yoga (stretching) but have found it either too difficult or you are not that flexible? If yes, and even if no, watch Jesse do some pure hatha yoga routines.
Unlike flow yoga, each pose in pure or traditional hatha yoga is held for a few minutes. While holding the pose, you focus the mind on the stretch. When you focus the mind, that's when you find silence.
Jesse is not flexible — never has been and probably never will be flexible like others. But it doesn't matter. In pure hatha yoga, how flexible you are makes no difference. It's all about loving the pose and focussing the mind on the stretch.
If you want to learn pure hatha yoga, now you can by following Jesse on a series of hatha yoga routines.
Random Questions That Have Been Asked: