Carrot Juice
Traditionally Used For
Liver Problems
Skin Problems
A Good Source Of
Calcium
Phosphorus
Potassium
Sodium
Vitamin A
Vitamin B
Vitamin C
Vitamin E
Vitamin K
Freshness Test
If you can grow carrots yourself, then that's ideal. Otherwise, look for carrots which a dark orange color. Ideally you want to buy carrots without cracks, although this is almost impossible to get away from nowadays. Some organic growers sell juicing carrots.
Important
I personally do not juice carrot greens unless the carrots are certified organic or grown at home without the use of pesticides. When juicing carrots, I follow the rule of 1 bunch of carrot greens per carrot. If I were to juice only half the carrot, then I would only use half of the carrot greens. Ultimately, carrot greens should be considered a green food and as with any green food, carrot greens can potentially have a more powerful effect on the body.
Some may find drinking too much carrot juice turns their skin a yellowish orange color. If this happens, it is a sign that the carrot juice is making your liver work. When your liver begins working, it releases toxins thus causing the yellowish orange color. If this happens, simply reduce your amount of carrot juice or dilute the carrot juice with water or other vegetables.
General
Everyone that I know loves carrot juice. It is so versatile and you will probably find that you will be using carrots and apples the most.
I tend to add carrots to all of my vegetable juices due to its naturally sweet flavor.
When possible, try to buy organically grown carrots from an organic farm. I have done this in the past and my carrot was so fresh, it was picked right from the ground a few seconds before I purchased it. I actually washed the carrot at the farm and bit right into the carrot and you know, the carrot was so sweet it was like eating candy.
Carrots on the market today simply don't compare to the carrot I bought from the farm. You can really see and taste the difference in those vegetables that are organically grown by a good farmer.
Although carrots are famous for helping improve one's eyes, the fact is that carrots are not as good at helping the eyes as led to believe. The whole story about how carrots are good for the eyes started during World Was II when the German pilots couldn't figure out how the Royal Air Force could see them so well.
The Germans were told the British were eating lots of carrots. The truth is that the British had invented radar. Radar alone didn't help give the British better vision of what was happening though. The fact is, the British did have good eye sight but it wasn't totally from carrots.
Almost all of the British air fields were next to bilberry bushes. As a result, the pilots were eating a lot of bilberries all the time. It was the nutrients in the bilberries that helped the pilots. All berries such as blueberries help benefit the eyes, but nothing compares to the bilberry.
Research done since World Was II has helped determine just how effective bilberry is. So although carrots are beneficial for the eyes, it all started as a lie to mislead the Germans.
Chinese Herbal Information
Properties:
Energy: neutral
5 Elements: earth
5 Flavors: sweet
General Information:
Nothing to report.
Cautions & Suggestions:
Chinese herbalists suggest that carrots, if taken too close to the time you go to sleep, could cause you need to go to the washroom in the middle of the night due to the fact that carrots encourage urination. In young children, the carrots can cause the child to wet their bed.
Benefits:
Indigestion
Inflammations
Herbal and Homeopathic Remedies That You Might Like
I have personally been using herbal and homeopathic remedies with great success since 1992. So like me, you might find that in addition to juicing, the following herbal and/or homeopathic remedies may be beneficial in helping you achieve greater and better health.
→ Don't see the right remedy for you? View a wide selection of more herbal and homeopathic remedies for various health concerns.
MediAc

Homeopathic remedy reduces acne including blackheads and whiteheads on the face and body.
Picture of Carrots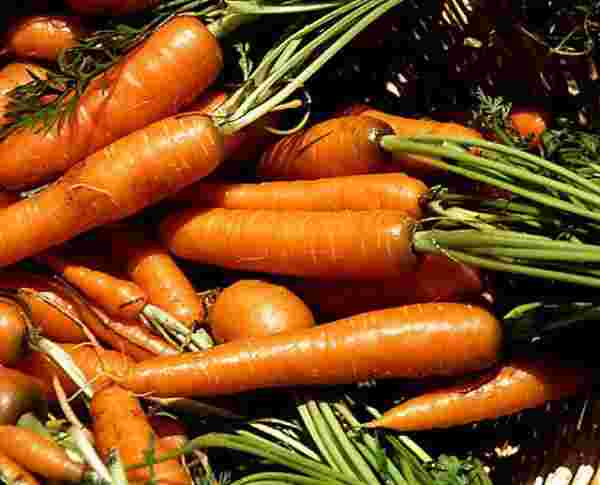 Carrots freshly harvested from a farm garden near Stanwood, Washington.
Carrots — Nutritional Analysis
Nutrient
Units
Value / 100 g
Carbohydrate, by difference
g
10.14
Fiber, total dietary
g
3.0
Vitamin C, total ascorbic acid
mg
9.3
Pantothenic acid
mg
0.197
Vitamin A, RAE
mcg_RAE
1406
Hatha Yoga
Have you been wanting to do hatha yoga (stretching) but have found it either too difficult or you are not that flexible? If yes, and even if no, watch Jesse do some pure hatha yoga routines.
Unlike flow yoga, each pose in pure or traditional hatha yoga is held for a few minutes. While holding the pose, you focus the mind on the stretch. When you focus the mind, that's when you find silence.
Jesse is not flexible — never has been and probably never will be flexible like others. But it doesn't matter. In pure hatha yoga, how flexible you are makes no difference. It's all about loving the pose and focussing the mind on the stretch.
If you want to learn pure hatha yoga, now you can by following Jesse on a series of hatha yoga routines.
Random Questions That Have Been Asked: