Romaine Lettuce Juice
Traditionally Used For
A Good Source Of
Magnesium
Potassium
Silicon
Sulfur
Vitamin A
Vitamin E
Freshness Test
Look for fresh lettuce that is heavy. The darker the leaves, the fresher the lettuce is and the more nutrients there are.
I break off the stem at the base to help keep my lettuce fresher for a longer time. With lettuce like Iceberg Lettuce, you can simply slam the base of the lettuce onto a hard surface and the core of the lettuce will fall out. Believe it or not, I learned this trick while watching "Three's Company" all those years ago as Jack Tripper was student chef in the show.
Important
Due to the fact that Lettuce is a green juice, you will find it beneficial to have no more than about ¼ of your juice consisting of green juice.
General
Butterhead Lettuce is also known as Buttercrunch Lettuce. Both are essentially the same, but different varieties.
Although you can juice Iceberg Lettuce, you will find Iceberg Lettuce doesn't compare nutritionally to the darker green lettuces. It's also difficult to find organically grown Iceberg Lettuce. Therefore, I stick to the darker green varieties of lettuce.
The darker green varieties of lettuce include Romaine, Buttercrunch (Butterhead) and Bibb Lettuce.
According to the Yogis of India, lettuce is your best source for Prana Energy.
If you really want to increase your pranic energy, consider doing what is known as the "Yogic Triple Breath". This is a simple breathing technique that takes about 7 minutes to do in the morning and at night. Yogi Ramacharaka wrote a very good book called "The Science of Breath" which I highly recommend. You can purchase this book and in some places, it is even published online. Short to read, this book will help you learn the "The Triple Breath" which is also known as the "The Complete Breath". As Yogi Ramacharaka says, breath is life.
Chinese Herbal Information
Properties:
Energy: cool
5 Elements: fire,earth
5 Flavors: bitter,sweet
General Information:
Nothing to report.
Cautions & Suggestions:
Chinese herbalists suggest that an excess amount of lettuce will lead to dizziness and eye pains.
Benefits:
Detoxification
Thirst Quencher
Herbal and Homeopathic Remedies That You Might Like
I have personally been using herbal and homeopathic remedies with great success since 1992. So like me, you might find that in addition to juicing, the following herbal and/or homeopathic remedies may be beneficial in helping you achieve greater and better health.
→ Don't see the right remedy for you? View a wide selection of more herbal and homeopathic remedies for various health concerns.
AnemiCare

Homeopathic remedy increases iron absorption to avoid iron deficiency anemia.
Picture of Romaine Lettuce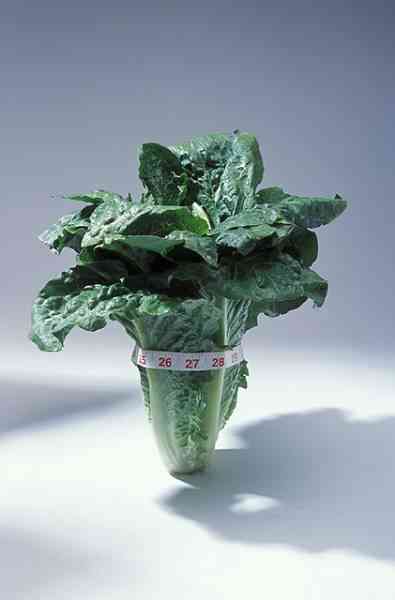 Photo by Stephen Ausmus.
Lettuce (Romaine) — Nutritional Analysis
Nutrient
Units
Value / 100 g
Carbohydrate, by difference
g
2.37
Fiber, total dietary
g
1.7
Vitamin C, total ascorbic acid
mg
24.0
Pantothenic acid
mg
0.170
Vitamin A, RAE
mcg_RAE
130
Hatha Yoga
Have you been wanting to do hatha yoga (stretching) but have found it either too difficult or you are not that flexible? If yes, and even if no, watch Jesse do some pure hatha yoga routines.
Unlike flow yoga, each pose in pure or traditional hatha yoga is held for a few minutes. While holding the pose, you focus the mind on the stretch. When you focus the mind, that's when you find silence.
Jesse is not flexible — never has been and probably never will be flexible like others. But it doesn't matter. In pure hatha yoga, how flexible you are makes no difference. It's all about loving the pose and focussing the mind on the stretch.
If you want to learn pure hatha yoga, now you can by following Jesse on a series of hatha yoga routines.
Random Questions That Have Been Asked: