Mangosteen Juice
Traditionally Used For
Anti–Inflammatory
Anti–Oxidants
Depression
Energy Booster
A Good Source Of
Freshness Test
The mangosteen should have a rich purple skin and a white fruit inside.
Important
General
Mangosteens are best obtained from an Asian grocery store.
Chinese Herbal Information
Properties:
Energy: cold
5 Elements: n/a
5 Flavors: n/a
General Information:
Nothing to report.
Cautions & Suggestions:
In traditional Chinese herbal medicine, mangosteen is known as the "Queen of fruits" (the King of fruits, incidentally, is durian). Mangosteen is known as the "Queen of fruits" because it has a strong yin energy. Since mangosteen has a strong yin energy, individuals with a cold constitution would do best avoiding mangosteen while those with a hot constitution will benefit from mangosteen. Either way, it is best not to use or have mangosteen every day. If used every day, then a person will get too much yin energy in their body leading to an imbalance.
Individuals not familiar with traditional Chinese herbal medicine or the philosophy of yin and yang, will be told by someone, "mangosteen is the Queen of fruits and so drink the juice every day". But this will lead to an imbalance.
Currently, as an example, many people buy mangosteen juice because mangosteen is the "Queen of fruits". A person hears this and then spends a pretty penny buying mangosteen juice without realizing they are putting their body into an imbalance — too much yin energy in this situation. A Chinese herbalist would never give anyone mangosteen every day. Instead, a Chinese herbalist would only use mangosteen as needed, when needed. Many people drink their mangosteen juice during the winter time thinking it is helping to keep them healthy and strong, as an example. But winter is a time of maximum yin in nature and thus, to help strengthen the body, we want to increase the yang energy we eat rather than increase the yin.
So during the winter, durian is a much better choice while in the summer, mangosteen is a much better choice.
While durian may be the "King of fruits" and while mangosteen may be the "Queen of fruits", drinking or having too much yin or yang energy will lead to health problems. All things must be done in balance.
Benefits:
Nothing to report.
Herbal and Homeopathic Remedies That You Might Like
I have personally been using herbal and homeopathic remedies with great success since 1992. So like me, you might find that in addition to juicing, the following herbal and/or homeopathic remedies may be beneficial in helping you achieve greater and better health.
→ Don't see the right remedy for you? View a wide selection of more herbal and homeopathic remedies for various health concerns.
Picture of Mangosteens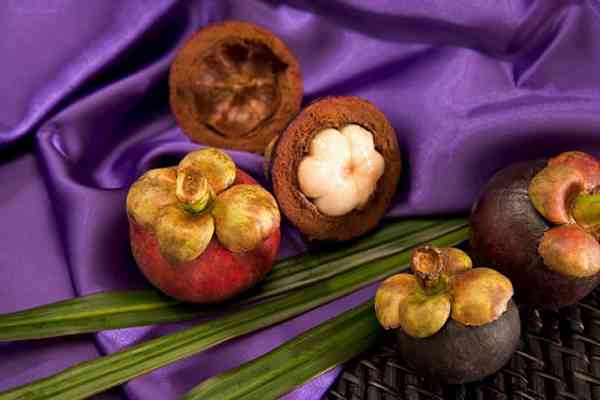 Photo by Peggy Greb.
Mangosteen — Nutritional Analysis
The USDA currently does not provide the nutritional analysis for pure mangosteen. As a result, the nutritional analysis below is for canned mangosteen in a syrup base. While this will affect the nutritional analysis, the nutritional analysis below still provides one with a general understanding of the nutrients available in mangosteen.
Nutrient
Units
Value / 100 g
Total lipid (fat)/li>
g
0.58
Carbohydrate, by difference/li>
g
17.91
Fiber, total dietary/li>
g
1.8
Manganese, Mn/li>
g
0.102
Vitamin C, total ascorbic acid/li>
g
2.9
Pantothenic acid/li>
g
0.032
Folate, DFE/li>
mcg_DFE
31
Vitamin B-12/li>
mcg
0.00
Vitamin A, RAE/li>
mcg_RAE
2
Carotene, beta/li>
mcg
16
Carotene, alpha/li>
mcg
1
Cryptoxanthin, beta/li>
mcg
9
Hatha Yoga
Have you been wanting to do hatha yoga (stretching) but have found it either too difficult or you are not that flexible? If yes, and even if no, watch Jesse do some pure hatha yoga routines.
Unlike flow yoga, each pose in pure or traditional hatha yoga is held for a few minutes. While holding the pose, you focus the mind on the stretch. When you focus the mind, that's when you find silence.
Jesse is not flexible — never has been and probably never will be flexible like others. But it doesn't matter. In pure hatha yoga, how flexible you are makes no difference. It's all about loving the pose and focussing the mind on the stretch.
If you want to learn pure hatha yoga, now you can by following Jesse on a series of hatha yoga routines.
Random Questions That Have Been Asked: