Green Cabbage Juice
Traditionally Used For
High Blood Pressure
Kidneys
Rejuvenator
Skin Problems
Thyroid Regulation
Ulcers
A Good Source Of
Chlorine
Iodine
Potassium
Sulfur
Vitamin B–6
Vitamin C
Freshness Test
Looks for cabbages that are solid and heavy with good looking leaves that are full of color.
Important
Due to the fact that Cabbage is a green juice, you will find it beneficial to have no more than about ¼ of your juice consisting of green juice.
Cabbage can cause some people to experience an increase in gas. Cabbage can also cause people to experience some mild cramping in the intestines. This is due to the fact that Cabbage is high in sulfur. This sulfur reacts with bacteria inside the intestines causing this problem. If you notice this, then simply reduce the amount you have.
General
Cabbage is a cheap and readily available vegetable. It's very nutritious and much more nutritious when raw versus cooked. I personally prefer Red Cabbage as darker vegetables have more nutrients.
Chinese Herbal Information
Properties:
Energy: cold
5 Elements: water
5 Flavors: salty
General Information:
Nothing to report.
Cautions & Suggestions:
Nothing to report.
Benefits:
Nothing to report.
Picture of Green Cabbage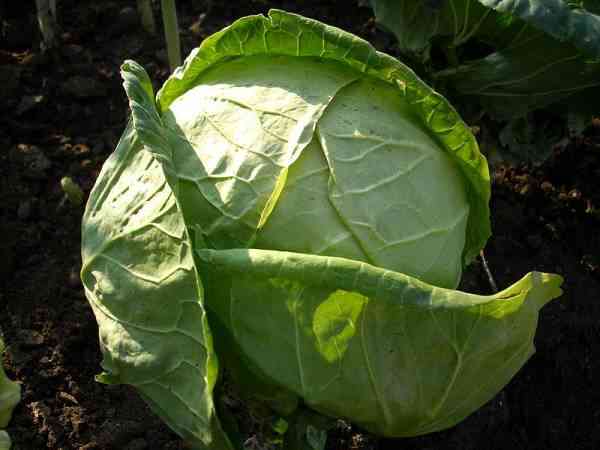 Cabbage (Green) — Nutritional Analysis
Nutrient
Units
Value / 100 g
Carbohydrate, by difference
g
5.43
Fiber, total dietary
g
2.3
Vitamin C, total ascorbic acid
mg
32.2
Pantothenic acid
mg
0.140
Hatha Yoga
Have you been wanting to do hatha yoga (stretching) but have found it either too difficult or you are not that flexible? If yes, and even if no, watch Jesse do some pure hatha yoga routines.
Unlike flow yoga, each pose in pure or traditional hatha yoga is held for a few minutes. While holding the pose, you focus the mind on the stretch. When you focus the mind, that's when you find silence.
Jesse is not flexible — never has been and probably never will be flexible like others. But it doesn't matter. In pure hatha yoga, how flexible you are makes no difference. It's all about loving the pose and focussing the mind on the stretch.
If you want to learn pure hatha yoga, now you can by following Jesse on a series of hatha yoga routines.
Random Questions That Have Been Asked: