Grapefruit Juice
Traditionally Used For
A Good Source Of
Calcium
Phosphorous
Potassium
B Complex
Vitamin C
Vitamin E
Vitamin K
Biotin
Inositol
Freshness Test
A good grapefruit is heavy for its size.
Important
Citrus fruits, when taken in excess, are known to leech calcium from thebody. All citrus fruits add citric acid to the body and so it's a good idea toget some exercise after having a citrus fruit drink.
You should always remove the rind of grapefruits, oranges and tangerines.Remove the rind, but leave the white membrane as the white membrane containsBioflavonoids. The bioflavonoids help the body absorb and use Vitamin C.
The rind of oranges, grapefruits and tangerines must be removed as the rindis difficult for the human body to digest. The rind can subsequently causerectal problems.
General
I personally prefer Ruby Red grapefruits.
Drink immediately after juicing to ensure you get all of the Vitamin C.
Chinese Herbal Information
Properties:
Energy: cold
5 Elements: wood,earth
5 Flavors: sour,sweet
General Information:
Nothing to report.
Cautions & Suggestions:
Nothing to report.
Benefits:
Lack of Appetite During Pregnancy
Picture of Grapefruits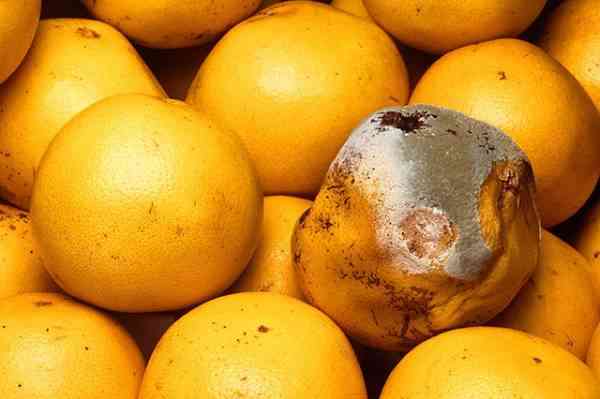 Healthy looking grapefruits along with one grapefruit that has been infected with green mold.
Photo by Scott Bauer.
Grapefruit — Nutritional Analysis
Nutrient
Units
Value / 100 g
Carbohydrate, by difference
g
7.68
Vitamin C, total ascorbic acid
mg
38.1
Pantothenic acid
mg
0.283
Vitamin A, RAE
mcg_RAE
13
Hatha Yoga
Have you been wanting to do hatha yoga (stretching) but have found it either too difficult or you are not that flexible? If yes, and even if no, watch Jesse do some pure hatha yoga routines.
Unlike flow yoga, each pose in pure or traditional hatha yoga is held for a few minutes. While holding the pose, you focus the mind on the stretch. When you focus the mind, that's when you find silence.
Jesse is not flexible — never has been and probably never will be flexible like others. But it doesn't matter. In pure hatha yoga, how flexible you are makes no difference. It's all about loving the pose and focussing the mind on the stretch.
If you want to learn pure hatha yoga, now you can by following Jesse on a series of hatha yoga routines.
Random Questions That Have Been Asked: