Watercress Juice
Traditionally Used For
Intestinal Problems
Kidneys
Liver
Female Endocrine System
A Good Source Of
Calcium
Chlorine
Chlorophyll
Phosphorus
Potassium
Sulfur
Freshness Test
Watercress is easily grown by yourself.
Look for dark green leaves. The darker the leaves, the more chlorophyll there is.
Important
Due to the fact that Watercress is a green juice, you will find it beneficial to have no more than about ¼ of your juice consisting of green juice.
Watercress tastes bitter. Watercress should never be drunk by itself as it is very powerful.
Watercress is very concentrated and so I try not use to any more than 1 ounce in every 8 ounce glass.
General
Watercress produces more juice than parsley, but its flavor is not as agreeable. I still like Watercress for its chlorophyll content, but for me, I still prefer coriander leaves or parsley.
Chinese Herbal Information
Properties:
Energy: cool
5 Elements: metal
5 Flavors: spicy
General Information:
Nothing to report.
Cautions & Suggestions:
Nothing to report.
Benefits:
Nothing to report.
Picture of Watercress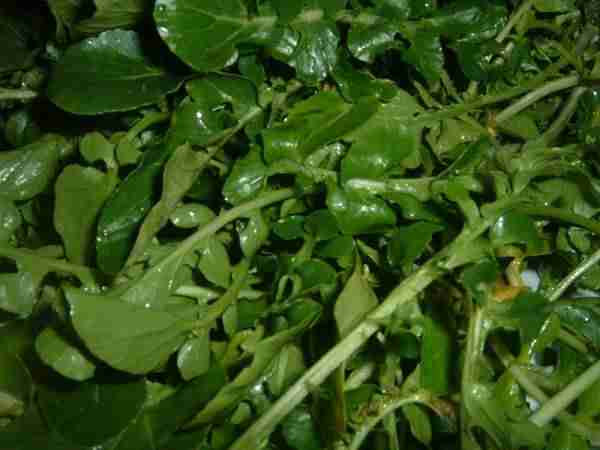 Photo by Masparasol.
Watercress — Nutritional Analysis
Nutrient
Units
Value / 100 g
Carbohydrate, by difference
g
1.29
Fiber, total dietary
g
0.5
Vitamin C, total ascorbic acid
mg
43.0
Pantothenic acid
mg
0.310
Vitamin A, RAE
mcg_RAE
235
Hatha Yoga
Have you been wanting to do hatha yoga (stretching) but have found it either too difficult or you are not that flexible? If yes, and even if no, watch Jesse do some pure hatha yoga routines.
Unlike flow yoga, each pose in pure or traditional hatha yoga is held for a few minutes. While holding the pose, you focus the mind on the stretch. When you focus the mind, that's when you find silence.
Jesse is not flexible — never has been and probably never will be flexible like others. But it doesn't matter. In pure hatha yoga, how flexible you are makes no difference. It's all about loving the pose and focussing the mind on the stretch.
If you want to learn pure hatha yoga, now you can by following Jesse on a series of hatha yoga routines.
Random Questions That Have Been Asked: