Parsley Juice
Traditionally Used For
Bladder Problems
Circulation
Endocrine System
Eye Problems
Urinary Tract
Weight Loss
A Good Source Of
Calcium
Chlorophyll
Magnesium
Phosphorus
Potassium
Sodium
Sulfur
Vitamin A
Vitamin C
Freshness Test
Parsley is easily grown by yourself. It grows without any special care or attention. If you have a garden, simply throw some seed down and Parsley will magically grow.
Look for dark green leaves. The darker the leaves, the more chlorophyll there is.
Important
Due to the fact that Parsley is a green juice, you will find it beneficial to have no more than about ¼ of your juice consisting of green juice.
Parsley is a natural diuretic also. Parsley should never be drunk by itself as it is simply too powerful.
Parsley is very concentrated and so I try not use to any more than 1 ounce in every 8 ounce glass.
Parsley is high in oxalic acid and should be avoided by those who suffer from or are at risk for kidney stones, gout, rheumatoid arthritis, osteoporosis and those whose stomach is easily irritated. Read my notes on oxalic acid for more information.
Since parsley is high in oxalic acid, you should also avoid combining parsley with other vegetables that are high in calcium, such as broccoli. Oxalic acid combines with calcium to create an indigestible compound. You should also avoid eating calcium rich food immediately after eating or juicing parsley or any food high in oxalic acid. This includes foods like tofu.
General
Most people have a certain vegetable that they have always liked. For me, it has always been parsley. Ever since a child, this is one vegetable that I could never get enough of. As a child, we used to grow parsley on the windowsill, unfortunately, I ate it all before the parsley could fully mature!
Chinese Herbal Information
Properties:
Energy: neutral
5 Elements: wood
5 Flavors: sour
General Information:
Nothing to report.
Cautions & Suggestions:
Nothing to report.
Benefits:
Nothing to report.
Herbal and Homeopathic Remedies That You Might Like
I have personally been using herbal and homeopathic remedies with great success since 1992. So like me, you might find that in addition to juicing, the following herbal and/or homeopathic remedies may be beneficial in helping you achieve greater and better health.
→ Don't see the right remedy for you? View a wide selection of more herbal and homeopathic remedies for various health concerns.
AnemiCare

Homeopathic remedy increases iron absorption to avoid iron deficiency anemia.
Picture of Parsley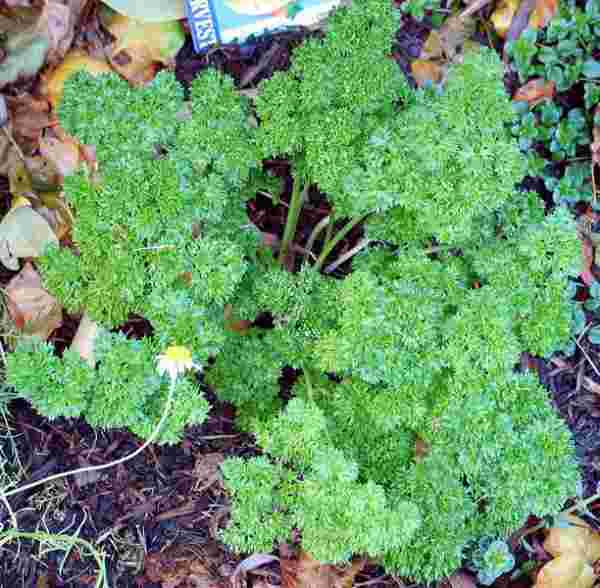 Photo by Donovan Govan.
Parsley — Nutritional Analysis
Nutrient
Units
Value / 100 g
Carbohydrate, by difference
g
6.33
Fiber, total dietary
g
3.3
Vitamin C, total ascorbic acid
mg
133.0
Pantothenic acid
mg
0.400
Vitamin A, RAE
mcg_RAE
260
Hatha Yoga
Have you been wanting to do hatha yoga (stretching) but have found it either too difficult or you are not that flexible? If yes, and even if no, watch Jesse do some pure hatha yoga routines.
Unlike flow yoga, each pose in pure or traditional hatha yoga is held for a few minutes. While holding the pose, you focus the mind on the stretch. When you focus the mind, that's when you find silence.
Jesse is not flexible — never has been and probably never will be flexible like others. But it doesn't matter. In pure hatha yoga, how flexible you are makes no difference. It's all about loving the pose and focussing the mind on the stretch.
If you want to learn pure hatha yoga, now you can by following Jesse on a series of hatha yoga routines.
Random Questions That Have Been Asked: