Cucumber Juice
Traditionally Used For
Hair Loss
High Blood Pressure
A Good Source Of
Chlorophyll
Manganese
Potassium
Freshness Test
Look for dark green Cucumbers. Good Cucumbers do have a bumpy surface. Choose Cucumbers that are about 10 to 20 cm long.
Cucumbers are usually waxed and so if you can, get Cucumbers that are not waxed.
If the cucumber is old, it will appear yellowish.
Important
General
Cucumbers contain a lot of water and the people of the Middle East and Central Asia are known for drinking Cucumber juice. In these countries, people drink Cucumber juice on hot days to help cool their body.
Cucumbers have a lot of Vitamin A in their peel, but if you buy waxed Cucumbers, then you should peel the Cucumber. Once this happens though, you loose most of the Vitamin A.
Cucumbers and apples are often waxed, unless organically grown. Once waxed, no washing can remove the wax. You have no choice but to peel.
Chinese Herbal Information
Properties:
Energy: cool
5 Elements: earth
5 Flavors: sweet
General Information:
Nothing to report.
Cautions & Suggestions:
You can apply cucumber juice to burns to help increase the healing time and to help soothe the burn.
Benefits:
Inflammation
Large Intestine
Picture of Cucumber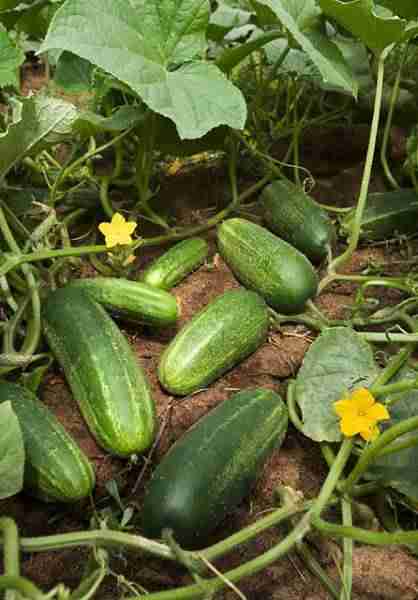 Photo by Stephen Ausmus.
Cucumber — Nutritional Analysis
Nutrient
Units
Value / 100 g
Carbohydrate, by difference
g
2.76
Fiber, total dietary
g
0.8
Vitamin C, total ascorbic acid
mg
5.3
Pantothenic acid
mg
0.178
Vitamin A, RAE
mcg_RAE
11
Hatha Yoga
Have you been wanting to do hatha yoga (stretching) but have found it either too difficult or you are not that flexible? If yes, and even if no, watch Jesse do some pure hatha yoga routines.
Unlike flow yoga, each pose in pure or traditional hatha yoga is held for a few minutes. While holding the pose, you focus the mind on the stretch. When you focus the mind, that's when you find silence.
Jesse is not flexible — never has been and probably never will be flexible like others. But it doesn't matter. In pure hatha yoga, how flexible you are makes no difference. It's all about loving the pose and focussing the mind on the stretch.
If you want to learn pure hatha yoga, now you can by following Jesse on a series of hatha yoga routines.
Random Questions That Have Been Asked: