Arugula Juice
Traditionally Used For
A Good Source Of
Calcium
Chlorophyll
Copper
Folic Acid
Iron
Manganese
Vitamin A
Vitamin C
Vitamin K
Freshness Test
Arugula should have a dark or a healthy color green to the leaves. If yellow, the leaves are no longer fresh.
Important
Due to the fact that arugula is a green juice, you will find it beneficial to have no more than about ¼ of your juice consisting of green juice.
Arugula does have a slight bitter taste to it. As with all bitter tasting vegetables, this indicates that arugula helps to detoxify the body. Therefore, having too much argula juice could potentially cause an imbalance causing to feel the discomforts of detoxifying too fast.
General
While arugula is often considered a herb due to its strong taste, it is actually a green leafy vegetable that dates back to Roman times. Since arugula does have a strong taste, it is often used in cooking to add flavor or is added to a lettuce salad. Since arugula does have a strong taste and since it is a green leafy vegetable, you will probably find that you won't want the argula juice to be more than ¼ of your juice.
Arugula is an interesting vegetable in that you can potentially consider growing it yourself in a pot. Depending on whether you have a green thumb, you might find it an easy plant to grow. In turn, this allows you to pick fresh arugula leaves whenever you want.
Arugula is probably one of the most nutrient dense leafy greens you can juice. Of course, other plants such as dandelion leaves and stinging nettledeserve to be mentioned too. Vegetables such as dandelion leaves and arugula are often overlooked, but they really are nutritious vegetables — just take a look at their nutritional analaysis to see what I mean. But arugula is a little different to dandelion leaves in that it seems to be more of a quietly overlooked vegetable — what do I mean? Well, so many people know that dandelion leaves are wonderful for the liver and you can go to your local health food store and find so many herbal remedies that use dandelion leaves, yet, arugula, well poor ol' arugula just doesn't get the same level of recognition as dandelion leaves do (although arugula is quite popular in parts of Europe especially Italy and France).
Although arugula does not get the same level of recognition as dandelion leaves, in many ways, arugula is more accessible as many grocery stores sell arugula leaves and/or you can easily grow it yourself (of course, you can grow dandelion leaves quite easily too because it does grow like a weed and requires very little, if any, maintenance).
Oddly enough, arugula has a shape similar to that of dandelion leaves too.
As with any green leafy vegetable that has a slight bitter taste to it, the younger and/or smaller the leaves, the less bitter the taste. Most grocery stores sell baby arugula and if you grow arugula yourself, then you will probably find it advantageous to pick the leaves at a relatively younger age. Of course, you will know by the bitterness if you should pick the leaves younger or not.
Chinese Herbal Information
Properties:
Energy: cold
5 Elements: wood
5 Flavors: sour
General Information:
Nothing to report.
Cautions & Suggestions:
Nothing to report.
Benefits:
Nothing to report.
Herbal and Homeopathic Remedies That You Might Like
I have personally been using herbal and homeopathic remedies with great success since 1992. So like me, you might find that in addition to juicing, the following herbal and/or homeopathic remedies may be beneficial in helping you achieve greater and better health.
→ Don't see the right remedy for you? View a wide selection of more herbal and homeopathic remedies for various health concerns.
Bio-Oxidate Defense

Promotes cell integrity & anti-aging with natural antioxidants to discourage cell damage due to lifestyle factors - now with Resveratrol.
Picture of Arugula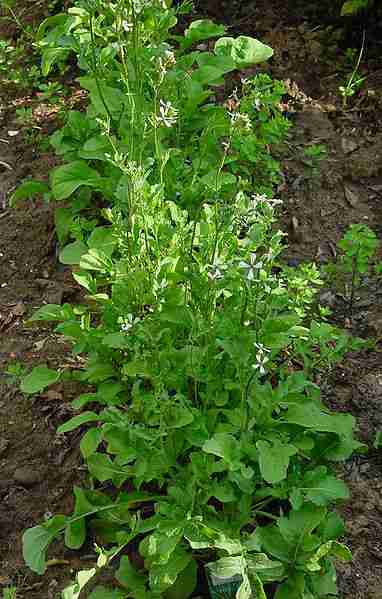 Photo by Leo Michels.
Arugula — Nutritional Analysis
Nutrient
Units
Value / 100 g
Carbohydrate, by difference
g
3.65
Fiber, total dietary
g
1.6
Vitamin C, total ascorbic acid
mg
15.0
Pantothenic acid
mg
0.437
Vitamin B-12, added
mcg
0.00
Vitamin A, RAE
mcg_RAE
119
Cryptoxanthin, beta
mcg
0
Lutein + zeaxanthin
mcg
3555
Vitamin E (alpha-tocopherol)
mg
0.43
Vitamin D (D2 + D3)
mcg
0.0
Vitamin K (phylloquinone)
mcg
108.6
Fatty acids, total saturated
g
0.086
Fatty acids, total monounsaturated
g
0.049
16:1 undifferentiated
g
0.001
18:1 undifferentiated
g
0.046
22:1 undifferentiated
g
0.000
Fatty acids, total polyunsaturated
g
0.319
18:2 undifferentiated
g
0.130
18:3 undifferentiated
g
0.170
20:4 undifferentiated
g
0.002
Hatha Yoga
Have you been wanting to do hatha yoga (stretching) but have found it either too difficult or you are not that flexible? If yes, and even if no, watch Jesse do some pure hatha yoga routines.
Unlike flow yoga, each pose in pure or traditional hatha yoga is held for a few minutes. While holding the pose, you focus the mind on the stretch. When you focus the mind, that's when you find silence.
Jesse is not flexible — never has been and probably never will be flexible like others. But it doesn't matter. In pure hatha yoga, how flexible you are makes no difference. It's all about loving the pose and focussing the mind on the stretch.
If you want to learn pure hatha yoga, now you can by following Jesse on a series of hatha yoga routines.
Random Questions That Have Been Asked: