Stinging Nettle Juice
Traditionally Used For
Expectorant
Glandular Problems
A Good Source Of
Calcium
Chlorophyll
Iodine
Phosphorus
Potassium
Silica
Vitamin A
Vitamin C
Vitamin D
Freshness Test
Only pick young leaves. Some varieties of stinging nettle may have a slight reddish tinge to them.
Important
Stinging nettles have this name because they sting. Since stinging nettles sting, there are some very important reminders should you decide to juice stinging nettle.
Stinging nettles are not a plant, vegetable or herb you can buy at your local grocery store. You need to pick the leaves yourself and yes, they sting. Therefore, the first thing you need to do is always wear gloves. Wear gloves when you pick the leaves, wash them and as you prepare them for juicing.
It's quite easy to remove the sting from stinging nettles but if you don't do everything properly, then yes, the stinging nettles will sting you as you drink the juice. If you are not comfortable preparing stinging nettles for juicing, then I suggest you not juice stinging nettles.
It's relatively simple to deactivate the stingers on the stinging nettle. First, only pick young leaves. It's ideal if you can pick them before they have any stingers on them but always assume they will sting you even if you don't see any stingers.
Second, always wear gloves. I am repeating this because it's easy to forget.
Third, to destroy and deactivate the stingers you need to blanch the stinging nettle leaves, steep them or soak them in water. The general rule of thumb is to soak the stinging nettle leaves in boiling water for at least 5 minutes or to soak them overnight.
Avoid picking the leaves once the plant has flowered. Mature leaves can become quite bitter which can lead to irritation of the kidneys and/or bladder.
Only pick the leaves near the top 4 to 6 inches of the plant, never the bottom.
Stinging nettles sting because the tiny hairs on them are filled with compounds that sting and irritate you. But by following the above directions, you can help deactivate and destroy the stinging compounds.
Please remember, while doing the above should destroy and deactivate the stinging compounds, there is always the chance that some of the compounds won't be broken down fully and completely. I am not saying this will happen, but that there is always a risk or possibility of this happening.
Due to the fact that stinging nettle leaves are a green juice, you will find it beneficial to have no more than about ¼ of your juice consisting of green juice.
General
Perhaps you were like me as a child — always playing around stinging nettles and subsquently falling on them. As a child, growing up in the small town of Fort Langley, I sure can remember experiencing the sting of stinging nettle. But I can also remember a friend's mother making stinging nettle soup. My goodness it was good.
While stinging nettles have their name for a good reason, they are also one of the best western herbal remedies known. Books such as Back To Eden by Jethro Kloss will provide you with a lot of useful information about stinging nettles if you want more information. Of course, another good book is The Herb Book by Dr. Lust.
Ultimately, stinging nettles are loaded with nutrition. They have been eaten by many traditional cultures including native indians throughout North America. But stinging nettle is not just used in North America, but in places such as the Himalayas and throughout Europe.
If you are a gardener, then although stinging nettles may provide you with a sting or two once in a while, it's worth noting that stinging nettles are known to attract beneficial insects to your garden. Nettles are also excellent when added to your compost.
Stinging nettle has a taste similar to spinach. Stinging nettle is excellent when used in soups, made into a tea and when added to salads (just remember to prepare them properly so the sting is removed). Stinging nettles can also be used externally but for this information, I suggest reading one of the herbal remedy books suggested.
Relatively speaking, stinging nettles are very high in nutrition. In addition to stinging nettles, also consider using dandelion leaves or arugula leaves, both of which are also high in nutrition — although stinging nettles are higher. Although stinging nettles are higher in the nutrition, the reality is that for some, the fact that they could get stung will cause them not to even consider stinging nettles but beyond this, the greater reality is that stinging nettles cannot be harvested as easily or all year round. As a result, dandelion leaves and arugula leaves make a better year round choice especially since many grocery stores sell both dandelion leaves and arugula leaves.
Chinese Herbal Information
Properties:
Energy: warm
5 Elements: wood
5 Flavors: sour
General Information:
Nothing to report.
Cautions & Suggestions:
Nothing to report.
Benefits:
Nothing to report.
Herbal and Homeopathic Remedies That You Might Like
I have personally been using herbal and homeopathic remedies with great success since 1992. So like me, you might find that in addition to juicing, the following herbal and/or homeopathic remedies may be beneficial in helping you achieve greater and better health.
→ Don't see the right remedy for you? View a wide selection of more herbal and homeopathic remedies for various health concerns.
Picture of Stinging Nettle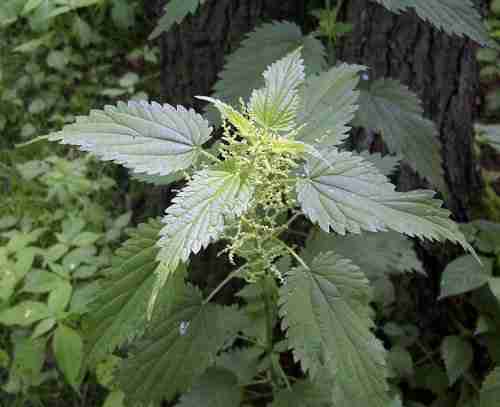 Stinging nettle growing naturally in nature.
Photo by Uwe H. Friese.
Dandelion Leaves — Nutritional Analysis
Nutrient
Units
Value / 100 g
Carbohydrate, by difference
g
7.49
Fiber, total dietary
g
6.9
Glucose (dextrose)
g
0.07
Vitamin A, RAE
mcg_RAE
101
Cryptoxanthin, beta
mcg
0
Lutein + zeaxanthin
mcg
4178
Vitamin K (phylloquinone)
mcg
498.6
Hatha Yoga
Have you been wanting to do hatha yoga (stretching) but have found it either too difficult or you are not that flexible? If yes, and even if no, watch Jesse do some pure hatha yoga routines.
Unlike flow yoga, each pose in pure or traditional hatha yoga is held for a few minutes. While holding the pose, you focus the mind on the stretch. When you focus the mind, that's when you find silence.
Jesse is not flexible — never has been and probably never will be flexible like others. But it doesn't matter. In pure hatha yoga, how flexible you are makes no difference. It's all about loving the pose and focussing the mind on the stretch.
If you want to learn pure hatha yoga, now you can by following Jesse on a series of hatha yoga routines.
Random Questions That Have Been Asked: