Sprouting Guide — Growing Sprouts
Many people like to ali sprouts to their vegetable juice.
Sprouts are nutritious like creatures and when you grow your own sprouts, then you get not only freshness, but maximum nutrition!
Of course, growing your own sprouts can save you money too. Growing sprouts is relatively easy too!
The Benefit of Sprouting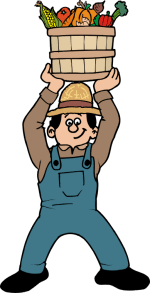 Most people aren't aware of the benefits of sprouting. Of course there are many benefits, but there is one benefit most people are not aware of and it is as follows...
A seed, nut or bean will contain what is known as enzyme inhibitors. These enzyme inhibitors have the sole responsibility of preventing the seed, bean or nut from sprouting until the environmental or climatic conditions are suitable for growing.
This is why many who eats nuts or beans have digestive problems. The enzyme inhibitors are doing their job, but within your body! After eating the nut or bean, the enzyme inhibitors counteract or de–activate your body's own digestive enzymes.
Now seeds, nuts and beans are loaded with valuable nutrition, especially once sprouted. The reason why is because once a seed, nut or bean begins to sprout, the enzyme inhibitors cease doing their job — and this is why a sprout is started.
So by sprouting, you neutralize the enzyme inhibitors allowing your body to more easily digest the nutrition in the seed, nut or bean.
How do we neutralize these enzyme inhibitors? Simple, we trick the seed, nut or bean by soaking it in water and then keeping it moist. This "simulates" nature and the see, nut or bean thinks it is time to start growing.
How To Sprout
Well, I hate to make this really simple, but sprouting is simple!
In order to sprout, you simply need to go to your local health food store and buy a sprouting jar. These jars are specifically designed for sprouting. As you might expect, you can also buy sprouting jars online.
Usually instructions are provided on how to sprout when you buy a jar. If not, chances are a clerk in the store can help you. But just in case, here is a simple guide.
Where To Buy Seeds, Nuts or Beans
The best place to buy your seeds, nuts or beans for sprouting is your local health food store.
Your local health food store will provide a variety of various seeds, nuts, beans and grains for sprouting. Most of them should be organic as well!
Beans
Many beans such as kidney beans, white beans, navy beans, etc can be sprouted and then juiced and/or eaten. However, many beans contain toxins that can only be destroyed through the soaking of the beans and then the cooking of the beans. It's for this reason that I suggest you do not eat or juice bean sprouts. There are some exceptions to this rule such as mung bean sprouts. But for the most part, beans should be avoided when it comes to juicing.
While beans should, for the most part, be avoided while juicing. You can still sprout the beans and then cook the beans to help release the enzyme inhibitors.
In fact, if you are cooking beans you should freeze the beans for 24 hours, then soak them and then finally sprout the beans (optional). Freezing and soaking the beans prior to cooking them helps to eliminate a large percentage of the enzyme inhibitors. If you decide to sprout the beans as well then when it comes time to eat your beans, chances of having any digestion difficulties is almost gone completely.
In case you haven't realized, the reason why so many have a lot of gas after eating beans is due to the enzyme inhibitors. Excess gas after eating beans is a clear sign you did not kill, destroy and eliminate enough of the enzyme inhibitors.
Sprouting Guide
Select the type of seed or bean from the chart below.
Place the suggested amount of seeds or beans in the sprouting jar and fill with enough purified water to cover the seeds or beans.
Soak the seeds or beans for the suggested amount of time.
Drain the water from the jar after the suggested amount of soaking time.
Put the jar in a dark place such as a kitchen cupboard.
Rinse the seeds or beans every 12 hours.
After rinsing, replace the jar back to the dark cupboard.
Once sprouting begins, that you see the shoots, put the jar into sunlight. This allows the sprouts to develop chlorophyll.
Let the sprouts grow for the suggested number of days.
You can adjust the growing time based on whether you are planning on eating the sprouts or juicing the sprouts. If you want to eat the sprouts, then you can eat them when they are a little smaller. If you want to juice the sprouts, then they will need to be a little bigger.
Sprout
Soaking Time
Sprouting Time
All Beans
9 – 12 hours
2 – 3 days
Alfalfa
5 – 10 hours
3 – 5 days
Almond
8 – 10 hours
2 – 3 days
Buckwheat
10 – 12 hours
2 – 3 days
Clover
8 – 10 hours
3 – 4 days
Corn
10 – 15 hours
3 – 5 days
Fenugreek
10 – 12 hours
4 – 5 days
Lentils
10 – 12 hours
2 – 3 days
Millet
8 – 11 hours
1 – 2 days
Oat Groats
8 – 10 hours
1 – 2 days
Peas
9 – 12 hours
2 – 3 days
Quinoa
8 – 10 hours
2 – 3 days
Rice
9 – 12 hours
3 – 4 days
Rye
9 – 12 hours
2 – 4 days
Sesame Seeds
8 – 11 hours
3 – 4 days
Spelt
6 – 12 hours
3 – 4 days
Sunflower Seeds
6 – 8 hours
2 – 3 days
Triticale
9 – 12 hours
2 – 4 days
Wheatgrass
10 – 12 hours
7 – 10 days
Hatha Yoga
Have you been wanting to do hatha yoga (stretching) but have found it either too difficult or you are not that flexible? If yes, and even if no, watch Jesse do some pure hatha yoga routines.
Unlike flow yoga, each pose in pure or traditional hatha yoga is held for a few minutes. While holding the pose, you focus the mind on the stretch. When you focus the mind, that's when you find silence.
Jesse is not flexible — never has been and probably never will be flexible like others. But it doesn't matter. In pure hatha yoga, how flexible you are makes no difference. It's all about loving the pose and focussing the mind on the stretch.
If you want to learn pure hatha yoga, now you can by following Jesse on a series of hatha yoga routines.
Random Questions That Have Been Asked: